Safe digging month is here, spring has sprung, and summer is soon, and this is the time of year that excavations really get into full swing with the arrival of improved weather. At beforeUdig we typically see a significant increase in the number of excavation enquiries we receive at this time of year.
On the flip side of this it is also the time of year that typically sees an increase in the number of damages to underground cables and pipes. So it is a timely reminder to refresh your field crews and the full range of processes that must be undertaken to prevent damaging critical underground infrastructure such as electricity, gas, fibre and water.
There are 5 golden rules to safe excavation
Slide
Plan ahead by lodging your beforeUdig enquiry at least two full business days before starting any excavation to ensure you have the correct information and safety measures in place.
Prepare by reviewing the utility plans. Contact the utility owner if you need assistance. Look for clues onsite such as pit lids, marker posts and meters. Engage a qualified locator which includes undertaking electronic location and marking out prior to potholing.
Pothole is the process of digging exploratory trial holes where permitted to establish the exact location of all underground utilities, use the asset owner's stated method as specified on the asset owner's plan and / or information pack - typically, a slit trench, hand dug using a nonconductive shovel or vacuum excavation.
Protect any exposed cables and pipes by using various methods, such as communicating to all working on site, erecting barriers, use warning tape and / or marking the location of the exposed infrastructure.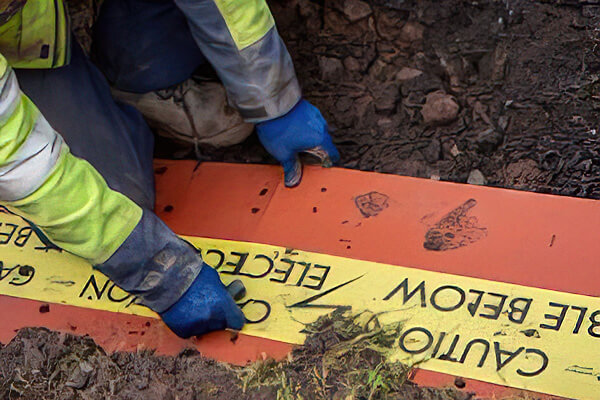 Proceed excavation work with caution after you have planned, potholed (unless prohibited) and have protective measures in place. Make sure that each site displays a hazard board detailing the existence and location of any cables and pipes and that all workers are fully briefed on the safe system of work around the infrastructure. At the beginning of each day or whenever the excavation crew change hold a 'prestart' safety briefing to talk over the hazards onsite. It is recommended a 'permit to dig' is used to verify that all the above measures have been undertaken before beginning work.
Whether you are digging up at home to install fencing, decking or planting or you are out on a busy civil construction work site you must always follows the five golden rules of safe excavation. These procedures will greatly reduce the risk of striking and damaging an underground cable or pipe and will keep you safe from the harm and losses that damage can cause.
Download a handy copy of our safe digging guide here
Dig safe to stay safe - Phil Cornforth - beforeUdig Operations Manager & Damage Prevention Specialist